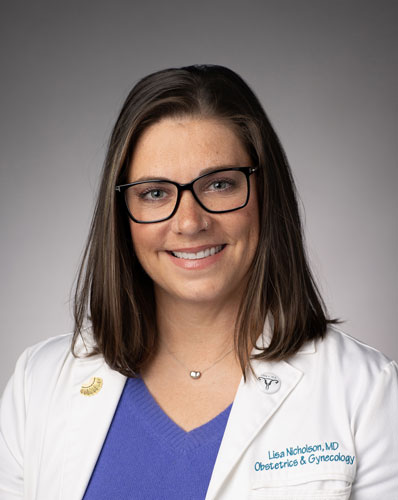 Lisa Nicholson, MD
Affiliations
Menorah Medical Center
Credentials and Education
Obstetrics and Gynecology – Board Certified
San Antonio Uniformed Services Health Education Consortium, Residency (2012)
Wright State University Boonshoft School of Medicine, MD (2008)
United States Air Force Academy, Undergraduate Degree (2001)
Languages
English
Biography
Lisa Nicholson, MD is a board-certified physician specializing in obstetrics and gynecology. Dr. Nicholson was recruited out of high school by the US Air Force Academy to play volleyball. She has always been an avid women's health and women's rights advocate, and, upon graduation from the Academy, she ran a sexual assault victim program as her first active-duty assignment. She delayed attending medical school for 4 years to pursue this special duty assignment. Dr. Nicholson earned her medical degree from Wright State University Boonshoft School of Medicine and completed her residency at San Antonio Uniformed Services Health Education Consortium.
In 2018, Dr. Nicholson and her husband, whom she met in the military, moved to Leavenworth, KS with their 2 children. She worked as an Attending Obstetrician & Gynecologist with St. Luke's Cushing Memorial Hospital until it closed. This was followed by a similar position at Children's Mercy Hospital in Kansas City where she mostly focused on high-risk pregnancy deliveries. In the military, the culture was "patient care always comes first."  However, Dr. Nicholson did not discover this to be true of the bottom-line oriented civilian sector. She despaired of finding a similar environment until Dr. Ahmed posted a job opening at Town Plaza Women's Health on the OB-GYN Mom's Facebook group.
Dr. Nicholson quickly determined that the doctors at TPWH were "women after my own heart, who care very much about the level of care that is delivered to each patient." She was pleased to learn that this privately-owned practice was based on treating patients like friends and family, listening hard and really hearing what patients said in order to give them what they needed versus what might be good for the bottom line.
Dr. Nicholson is a women's advocate at heart. Since the beginning of her career, she has dealt with women who have had traumatic experiences. She has led sexual assault response teams and has a deep sensitivity to women's mental health issues. She began V Squad (V for Vagina) in Leavenworth as a support group for teenage girls who did not have access to resources about birth control, STDs, etc. When she is not advocating for women, she is helping her local community. She attends fundraisers, is actively involved in school board meetings, is a member of the school's Family Engagement Team, works with the school's Site Councils, volunteers with the PTO, and coaches her sons' baseball teams.

Care Philosophy
My personal integrity is tied to the level of care I provide. I make choices that benefit my patients rather than the bottom line. I believe in giving patients what they need, when they need it, because it is the "right" thing to do, something ingrained in me from my military service. It is ultimately why I went into medicine, to do the right thing for patients. I am a passionate advocate for women. I am always going to be there. I'm always going to stand up for women, to be there to fight for our rights, whatever we need in healthcare or work or personal lives, to make the tribe stronger.